Micro-Acquisition Pilot
Calling all people who code!
Employment and Social Development Canada (ESDC) is looking for people who code to create and deliver custom code under an open source license.
These work opportunities are low dollar value ($10K or less) and involve the use of unclassified, non-protected information only (so you don't need security clearance).
Contribute to increased working in the open and reuse of code in the Government of Canada!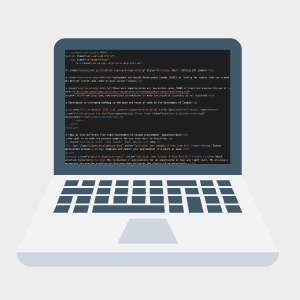 How is this different from other Government of Canada procurement opportunities?
Our goal is to make the process simpler for you from start to finish by:
Easier application process. Complete and submit your application in 2 hours or less.
Quick selection turnaround. The evaluation of applications for an opportunity is fast and light-touch. We anticipate announcing the winning supplier two business days following the closing of an opportunity.
Fewer hurdles to winning opportunities. No lengthy pre-approval processes, anonymized evaluation process to reduce bias and all work is done virtually so a National Captial Region (NCR) location is not required.
Faster payment. Deliver your code and receive your payment by credit card or PayPal.
Learn more about the process in the User Guide and Frequently Asked Questions.
About this pilot
This micro-acquisition pilot project is being run for one year at Employment and Social Development Canada through a partnership between the Innovation Information Technology Branch and the Chief Financial Officer Branch.
This pilot would not have been possible without the help of the BC Developers Exchange/BC Digital Marketplace who have lead the way for years, and have generously shared their expertise.
We have also endeavoured to learn from the lessons of the GC Developers Exchange (the Government of Canada's first foray into low dollar value procurement of open source code).
Contact us if you are an ESDC team with a coding opportunity!